If you're considering a professional teeth cleaning for your pup, our Waxhaw vets explain how it's done and why it's a critical element in your dog's healthcare routine. 
---
Why do dogs need professional teeth cleanings?
Similar to their human's, a dog's dental health is closely linked to her overall physical health and wellbeing.
Unfortunately, the dental health of most dogs (even young ones) leaves much to be desired and periodontal disease is common.
This can have terrible consequences for their health and even contribute to a shortened lifespan, not to mention tooth and bone loss.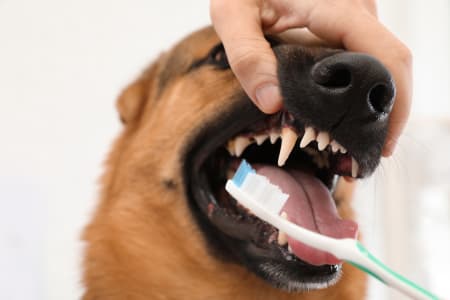 Why should I take my dog in for a professional teeth cleaning?
While it's critically important to maintain an at-home oral care routine (you may even want to supplement tooth brushing with dental treats or chews) to avoid plaque and tartar buildup, it's best to visit the vet on a regular basis for a professional cleaning. This will help keep your dog's mouth clean and healthy.
Without this annual checkup and cleaning, your pooch's teeth can get covered in plaque, which leads to bad breath and gingivitis. Left unchecked, this develops into periodontal disease that can result in tooth loss and bone loss in its most severe forms.
As you might imagine, losing teeth and jawbone can have serious consequences for your dog's overall health. Not only will eating be impeded, but periodontal disease can lead to heart disease as bacteria enters the bloodstream via the mouth, and infects other organs.
What can I expect during a professional teeth cleaning?
We recommend that your dog come in once per year for an annual dental checkup. They may need to see us more frequently if they are prone to dental issues.
Much like at your own dental appointments, the veterinarian will evaluate your four-legged friend's oral health, inspecting her mouth for signs of dental problems, including:
Extra teeth or baby teeth that have been retained
Discolored teeth
Loose or broken teeth
Plaque or tartar buildup
Swelling, bleeding or pain in or around the mouth
Bad breath
This would also be a good time to let your vet know if you've noticed any symptoms such as your pooch dropping food from her mouth, excessive drooling, abnormal chewing or reduced appetite (as this may indicate that your dog is feeling pain in her teeth when attempting to chew).
If your pet is healthy enough for anesthesia, the vet will clean and polish their teeth and gum line. Each tooth will be probed and radiographed. A fluoride treatment will then be applied and a dental sealant will be used to fight plaque. If advanced periodontal disease is discovered, the vet will develop a custom treatment plan and review it with you.
How much does a professional dental cleaning cost for a dog?
The cost of this treatment will vary depending on a number of factors, such as whether your dog has any dental diseases or damage, her weight (a heavier pet will require higher doses of anesthesia and other medications), your dog's age, and which if any post-cleaning medications such as antibiotics are needed, to prevent infection.
How can I keep my dog's teeth clean?
Pup parents have an important role to play in helping their dogs win the battle against dental disease. Here are our tips for maintaining your dog's oral health:
Include daily brushing as part of your dog's oral health routine. A finger brush can be used to eliminate any debris or plaque from their teeth.
Use a plaque prevention product (your vet may have trustworthy recommendations) that you can put on your pet's teeth and gums to keep plaque from building up.
Offer dental chews, treats or teeth-friendly food to help keep plaque buildup and tartar at bay.
Dental care is critical to your pet's overall physical health. Book your dog's annual dental appointment today - your four-legged friend will thank you!
Is it time for your dog's annual dental appointment and teeth cleaning? Our veterinarians at Providence South Animal Hospital in Waxhaw have experience in dental health prevention and treatment for dogs. Book an appointment today.