At Providence South Animal Hospital, our vets provide a broad range of surgical services for cats and dogs in Waxhaw, including soft tissue and orthopedics, c-sections, and spay and neuter procedures.
Surgery for Dogs & Cats
The veterinarians at Providence South Animal Hospital are highly skilled in performing surgeries. During every procedure we focus on patient safety and pain management, and we use the most current surgical practices in a sterile environment.
Rest assured, we'll take exceptional care to ensure a safe and complete recovery for your pet before during and after any of the following surgical procedures: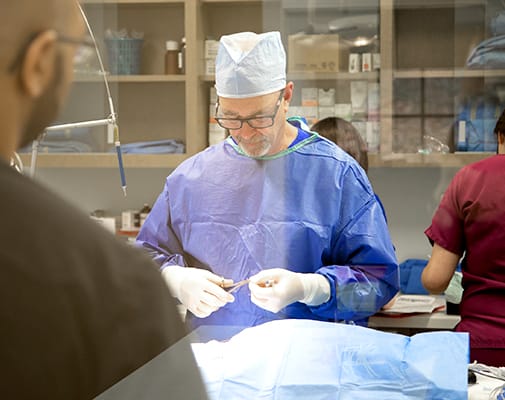 Pet Surgery: What to Expect
Before, during and after surgery, our staff of compassionate, caring veterinary professionals will closely monitor your pet.
Every surgical procedure includes continuous patient monitoring and pain management. After the procedure we also provide post-operative monitoring and pain management. 
When it's time for your pet to return home, we will review your postoperative care instructions. We welcome any questions you may have and will do all we can to help your pet recover fully. 
Surgery FAQs
Read the answers to our most frequently asked questions about surgical procedures at Providence South Animal Hospital. 
What happens during a surgical consultation?
During the surgical consultation, we will perform a physical exam and review your pet's medical history.
We will also complete blood work and any other diagnostic tests that are needed to determine the nature of your pet's condition at this time.
Diagnostics may include x-rays, an ultrasound, or biopsies. Once the results are back, we will create a treatment plan for surgery and discuss it with you.
Will surgery take place on the same day as a consultation?
No. The consultation appointment is first required for testing and examination, to determine the nature of your pet's health problem. Once any diagnostic test results have come back from our lab, we can then schedule a surgery appointment for your pet.
How long will surgery take?
Depending on the type of surgery being performed and on your pet's specific condition, surgeries typically last between two to four hours.
Does my pet have to stay overnight before or after surgery?
Depending on the time of day that the surgery is scheduled, it may be necessary to drop your pet off the night before. Many patients are also required to stay with us overnight after surgery so that we can monitor them as they recover.
Depending on the type of surgery your pet undergoes, and how quickly they recover afterwards, your pet may be able to go home on the same day of their surgery.