As with people, older cats can experience joint pain and other uncomfortable conditions that can make sleep difficult. If your cat has had surgery or is experiencing other aches and pains an orthopedic bed could help your cat to rest more comfortably. Our Waxhaw vets explain how an orthopedic bed could benefit your cat.
---
Quality Sleep for Your Cat
All animals need quality sleep in order to feel their very best, and cats are no exception.
Like us, our beloved feline friends can experience aches and pains that are aggravated by uncomfortable sleeping positions or an uncomfortable bed. This is especially true for senior cats, cats that have undergone surgery, and those suffering from conditions such as arthritis.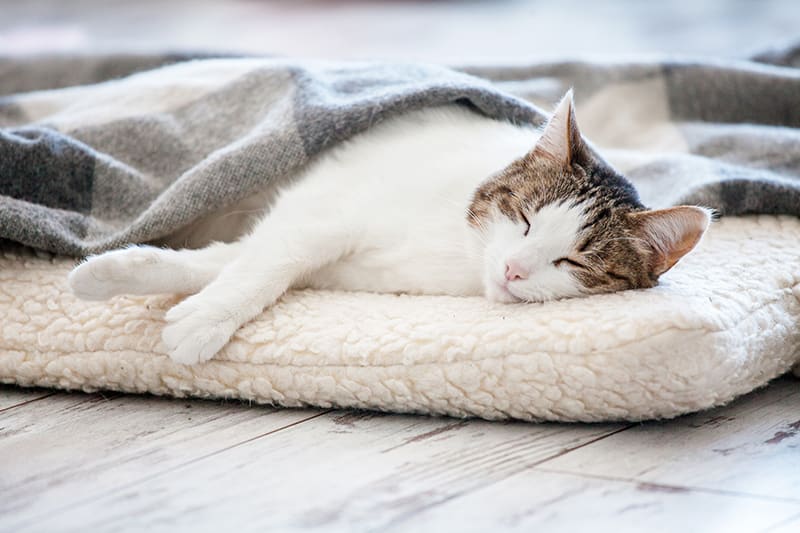 Cushioning for Painful Joints
As your kitty ages there's a good chance that they will experience some degree of joint pain. While their level of discomfort can largely be managed through medications and weight management, providing your pet with a comfortable place to rest may also help your pet to feel better. In some cases, when cats are unable to move around freely without assistance bedsores can be a concern, making a well-padded bed essential.
Shopping for Orthopedic Beds for Cats
Much like orthopedic beds for people, those made for cats come in all different price ranges and styles. With the variety of orthopedic beds from flat to puffy and raised to heated you are bound to find just the right model for your cat at a price you can afford.
The Basics About Orthopedic Cat Beds
Padding
Most orthopedic beds for cats are made with comfortable thick padding that molds to your cat's body while protecting painful joints from hard surfaces. Typically a thicker, more dense padding will mean more cushioning for your cat's delicate joints. In many good quality orthopedic cat beds, medical-grade orthopedic foam, or memory foam, is used to provide just the right amount of comfort and support. 
Size
Size matters when it comes to finding the right orthopedic bed for your cat, especially if you opt for cozy hooded or tent style beds. If your cat is larger than the average kitty, be sure to pay extra attention to the size of the cat bed you buy.
Washable
Be sure that you choose a bed that's easy to clean. Cats are fastidious creatures and typically won't choose to sleep in a bed that is dirty or soiled. If your cat is arthritic and has trouble moving quickly accidents may happen, so be prepared by purchasing a bed that has a machine-washable removable cover.
Soft
That said, machine-washable shouldn't mean that you need to sacrifice softness. Many orthopedic cat beds come in soft fleecy fabrics that will make your pet feel extra comfy.
Non-Slip
Depending on your home decor and where you plan to place your cat's orthopedic bed non-slip fabric on the bottom of the bed can help to make it easier for your kitty to gently get in and out of their comfy new bed. This is especially true if the bed will be placed on marble, ceramic, or hardwood floors.
Attractive
If you are particularly house proud, you may also want to pay attention to the color of the orthopedic cat bed you choose for your feline friend. While this may sound trivial, if you like the look of the orthopedic bed you buy for your cat, you are more likely to place it in a spot where your cat feels like a part of the family, rather than hidden away in another room.
Special Features
Beyond the basic requirements of a quality orthopedic bed for cats, many beds come with fantastic extra features that can help to make your pet feel more comfortable and contented.
Hooded & Nested
Hooded and nest style beds are much like comfy tents for your cat. These beds come in a range of styles from rectangle with straight sides to more portable igloo, envelope, and slipper shapes. These beds allow your cat to feel protected and comfortable.
Elevated & Window Mounted
Does your cat love to watch birds fly by and keep an eye on the neighbors? An elevated window mount orthopedic bed may be ideal for your kitty. These handy cat beds attach to windows using strong suction cups and supports, and offer all the comfort of floor model orthopedic cat beds but with a great view.
Heated & Self Warming
If your cat needs a little extra warmth, a heated orthopedic bed may be just what your pet needs to rest comfortably. Self-warming beds typically have deep sides to cradle your cat and trap body heat, as well as a thin layer of metalized insulation to diffuse and reflect back the warmth generated by your cat.
Over-register
Over-register beds are slightly raised beds with legs that straddle a standard heat register. Meaning your cat's orthopedic mattress is kept warm by the heat coming from the furnace, while at the same time allowing the heat to flow freely through your room.
Note: The advice provided in this post is intended for informational purposes and does not constitute medical advice regarding pets. For an accurate diagnosis of your pet's condition, please make an appointment with your vet.